Register to get the latest investor tips
Register Now
Teladoc Health (TDOC) is a growing player in the telehealth space. As remote work and social distancing become the new normal, Teladoc health is poised to make a big move at significant scale advantages compared to its competitors.
Teladoc was in this space before the pandemic, and they already know their way around. The next steps they will take will allow huge opportunities to upsell current clients and improve margins.
Additionally, a proposed merger with Livongo will expand their capabilities and create a differentiated product that cannot be matched by competitors in the same space.
Business Facts for Teladoc Teladoc (NYSE:TDOC) is currently the largest telehealth provider that exists in the United States.
They have 52 million paying members and more than 22 million fee-only individuals among their membership. This a firm that utilizes a B2B model, and this gives them access to thousands of clients. Their clientele includes health plans, employers, hospitals, and complete health systems.
Teladoc currently has 40% of the Fortune 500 among its clientele, and these members provide employees with access to the platform. This means that in 2020, Teladoc was able to conduct 10.5 million virtual visits. This is the majority of their revenue at 79%. This is a huge part of the market and worth some notice!
Clients pay for the service as a pay-per-member-per-month model and they enroll monthly for a fee.
The rest of their revenue comes to them through visit fees and through other D2C partners like BetterHelp, which offers mental health services to Teladoc members.
This is a really unique and totally flexible means to leverage this model, and they have 55,000 licensed physicians across the world who are connected to them. This means that 450 medical specialties are available to members across the platform!
With their exciting connection to Livongo, they are working on "whole-person-care" which really speaks to people and feels far more personal than the take-a-number-and-sit-down model of regular healthcare.
I don't know about you, but I really hate sitting in a doctor's office waiting for my 15 minutes of some random doctor's time, so this feels like a big step up in the world. Especially if you just have the sniffles! It would be nice to conduct more of my doctor's visits this way…from the comfort of my own home!
Register to get the latest investor tips
Register now
Teladoc is Available and Low-Cost
What other healthcare provider can you say that about? This is the strength of this model, and it is the reason that the firm has a lead on over offerings in the same space. This model allows users to bypass their healthcare provider locally and choose their own provider and what care they are requesting!
Healthcare has too long been under the control of everyone but the patient, and this is why this company deserves some notice and to be taken seriously as a big player in the post-pandemic world.
The cost for this kind of healthcare access is minimal compared to in-office visits, and this makes telehealth a means for everyone to get access to healthcare, which is supposed to be the goal of everyone.
Post-Pandemic Growth Sure to Come
So, should you invest in Teladoc? Well, let's talk about some facts related to the pandemic. First of all, after the opening months of the COVID-19 lockdown/crisis, telemedicine visits rose by 22.5%. This is compared to 2015 numbers. Yes, believe it or not, this super-easy way of seeing a doctor has been around that long but not everyone knew about it.
The estimated CAGR for the next 3 years is 40.4%, and there should be around a $250 billion opportunity to virtualize healthcare everywhere. This set of changes has created a sticky customer base who are eager for even more restrictions to ease and to make in-person-only healthcare a thing of the archaic past.
94% of Medicare advantage plans are stating that they will offer telehealth benefits to members in 2021, which is a big uptick compared to the 58% in 2020.
On the Teladoc side of things, this means that their 2.5 million Medicare Advantage members were on to something well before everyone else knew that this was possible.
Client retention in this space for Teladoc is currently sitting at 90%, which is massive for any healthcare offering that is based on a monthly fee.
CMS Adds Benefits for Medicare Visits
As I have said all along, Teladoc already practically owning this space has given them great advantages as the pandemic stretches out. CMS announced that they would pay physicians more for telehealth visits to their Medicare and Medicaid patients than they would for in-person visits
If this doesn't cement the future of Teladoc, I don't know what else will! This is huge for a set of insurance options that have traditionally been refused at many for-profit healthcare locales, and this makes healthcare available to millions of people who would otherwise not have access to it.
Beyond the social implications and the justice of this change, there are so many more people who can now get easy and quick medical care, and their doctors will be motivated to give it to them now that they will be paid fairly. This is a social justice that has been done, as well as a good sign for the long-term health of Teladoc itself.
Register to get the latest investor tips
Register Now
Not Only Check-Up Visits
As further evidence that Teladoc is going to go the distance, they are also offering dermatology and behavioral health services. You can get help with a cold or a mental health check now.
You can also get specialist care in a variety of other fields, which means that you don't have to stop seeing your doctor for specialty visits despite the social distancing norm.
Even doctors did not believe that this model for care would work so well, and they are just now starting to come around as an industry and view these jobs and companies like Teladoc as viable healthcare entities. This can only mean growth for the future and stability long-term.
The 10 million visits in 202 made utilization jump from 9.3% to 16%. Teladoc is estimating that they will see a TAM of $121 billion after the Livongo merger. They are the oldest Telehealth company in the US, having been in this space since 2002.
They already have the foundation for basic healthcare sorted and off and running. Now they are just providing added value through all these specialty care options and the total-person healthcare viewpoint that speak well to patients.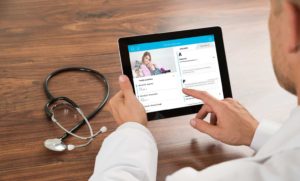 Cross-Sell Opportunities
Teladoc is uniquely placed to complete other mergers after the Livongo merger is completed. They have the AI in place to make this process smooth, seamless, and beneficial to members.
They are the only platform to offer continuous monitoring and treatment for their members, and they show no signs of slacking on this promise. The whole-person care goal they have set is a unique and totally integrated model that is superior to traditional care models.
Livongo has a higher PMPM fee, so Teladoc is already adding value to their members by making this a part of their own monthly member fee without added cost. This is one of the major advancements that Teladoc can offer up with future merger choices.
This current merger is seeking to bring in a further 65 million potential users. This is the metric that is typical with a properly handled merger of these kinds of PMPM entities, and Teladoc has made it clear that they are willing to consider other mergers that will provide cross-benefits to members.
This type of growth is a savvy investor's dream, and you won't see a better company in this space for this kind of exponential growth opportunity.
Teladoc Leads the Way
Teladoc is clearly the leader in its space, and it will continue to be unless something changes significantly. Leveraging 20 years of prior experience, they are carving out a unique and authoritative healthcare option in exchange for a small monthly fee.
Our increasingly online lifestyle in the US makes this the best time ever to invest in these kinds of companies, and Teladoc is a Rockstar in its space. With added value growth on the horizon through mergers with companies like Livongo, it's almost like you are investing in both companies for the price of one stock.
Teladoc is a giant that is on the rise, and investing in them at this stage of the game will secure investors the chance to reap the benefits of the healthcare industry as it is growing into this space. This is a growing industry, and there is no better way to get involved at the beginning of a global movement that is revolutionizing healthcare world-wide.
Be the first to find out what the Nose knows.
Sign up for the TraderNose Newsletter to stay up to date on Teladoc Health and other commonly-discussed small-cap stocks.
Read full disclaimer here.