Register to get the latest investor tips
Register Now
Within the last few years, companies have raced to create devices and other ways of providing insulin to patients both more effectively and efficiently. One of the best creations was the wearable insulin pump.
This allows someone who is diabetic to have a continuous glucose monitor. Some of the monitors allow someone to adjust the settings themselves, while others are completely automatic and may just make a small beeping noise when adjusting the levels.
In general, this allows people to live their lives more simply and without as much stress when looking to travel with insulin and a glucose monitor.
Of course, investing in something that will positively affect millions of lives always seems like a good plan. Let's go over more of the pros and cons below.
Insulet's monitor is different
Most newer monitors are what doctors call a closed-loop system. This means the monitor can sense the patient's glucose levels and automatically adjusts the insulin levels accordingly. It does not make any noises and the wearer does not need to do anything manually.
The two most popular companies for these products are Tandem Diabetes and Medtronic, brands you have definitely heard of and may even invest in.
Insulet (NASDAQ: PODD) offers a hybrid solution called the Omnipod 5 insulin pump. It is a continuous glucose-monitoring sensor. It has a very simple and wearable design that is hardly noticeable.
It can be worn for up to three days and provides non-stop insulin delivery during this time. The company plans to distribute the product in boxes of 10, making each box have about a 30 day supply.
The monitors are an excellent alternative solution to administering insulin because it does not need a needle or syringe. It takes away the worry of people needing to inject themselves with insulin. It also makes the workday and travel days much easier.
After three days, the pod can be disposed of in the regular garbage. No need for a biohazard box.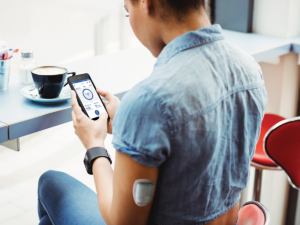 The clinical trial
It conducted a 240-patient study to help patients manage their glucose levels during eating, exercise, and sleep. It kept the glucose levels of the patients in the range of about 74% of the time.
No monitor has ever been able to achieve results over 80%, and most tap out closer to 70%. Keeping the levels in line is an extremely difficult task, but it is one that the Omnipod 5 seems to be managing better than any other company is currently.
This is a remarkable improvement of other glucose monitors that are currently being sold. The study showed a highly impressive reduction in HbA1c and an improved time range for getting insulin levels back under control.
The study also showed the lowest rates of hypoglycemia across the board.
Other clinical trials focus on one age group, but Insulet went the extra mile and included everyone to see if their product would be safe and effective for all age groups.
Spoiler alert, it was.
The patients in the trial ranged from 6 years to 70 years and they all benefited from the device.
It is being fast-tracked
Generally, anything fast-tracked by the FDA is already showing promising outcomes. As we all know how notoriously slow the FDA can be when reviewing and approving a new drug or vaccine.
They are expected to approve the product extremely quickly and have a product launch before the end of the year 2021.
It is better than what already exists
Tandem and Medtronic already have hybrid options on the market, but they were all ill-designed and much more expensive than the price that Omnipod 5 is set to be.
The Omnipod 5 is completely waterproof and has no snaking tubes. This is of course an important selling point because it means the wearer can virtually keep it on all the time regardless of their day-to-day activities. It will be sold through drugstores at a price close to $295.
Register to get the latest investor tips
Register Now
How much is the stock worth now?
It is currently $269 and has a $17 billion market cap. It trades at 13-times the $1.3 billion in sales that Wall Street expects for 2022.
It is also expected to sell over 150 times in that year's predicted earnings of $1.72 a share. These numbers are hot and huge.
This is because right now, insulin pumps are largely being phased out and monitors are becoming the new normal for people with Type-1 diabetes. Fewer than 35% of Americans wear a pump and less than 10% of Europeans.
Guggenheim Securities' Chris Pasquale has repeated several times that the Omnipod 5 is going to be very competitive and already shows more promise than the similar products sold by Tandem and Medtronic.
Canaccord Genuity analyst Kyle Rose upgraded the stock from Buy to Hold recently but has maintained its target price of $280 with a 7.3% upside potential. He personally believes the launch of Omnipod 5 will fill gaps that currently exist between people with Type-1 diabetes and their current monitors. He also thinks the monitor is highly competitive and will become more widely used than the current pumps on the market.
In general, the stock has a moderate buy consensus rating. The average analyst puts a price target of about $287.29 with a 10.1% upside potential. This is based on 5 buys and 4 holds. The shares have rallied about 86.5% over the past year.
So, short story. Yes, the stock is expensive. This is usually the case with any medical technology. They hold great value and promise, so they are set at high prices even from the very beginning.
Was the development affected by the Covid-19 pandemic?
No. Almost no major diabetes technology players were affected by the pandemic. They all actually had major growth in 2020. Explosive even.
Insulet shares surged more than 49% last year. Their biggest rival, Tandem Diabetes also saw a soar of 60.5%. So, it's safe to say most of the companies are doing well and do not intend to go downhill anytime soon.
Despite the raging pandemic, these companies made huge strides in making their names known.
Despite all the companies being able to do more than keep their head afloat, Insulet was still the only one to develop the world's first tubeless, wearable automated insulin delivery system that continuously adapts insulin delivery based on glucose levels and trends.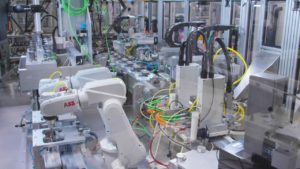 Register to get the latest investor tips
Register Now
They are upfront
Since the end of their clinical trial for adults and adolescents, they have made sure to keep investors and consumers aware of what is going on and what the next steps are.
They recently presented all their data and findings at the ENDO 2021 which is a leading forum for worldwide endocrinology research and clinical care.
The event was hosted by Insulet and they had a thorough presentation and an interactive question session.
If I don't have your attention, here are even more numbers
With these financial numbers and highlights, Insulet has easily become the global leader in tubeless insulin pump technology.
They had the full year 2020 revenue of $904.4 million, which was up 22.5% compared to the previous year of $738.2 million.
The total Omnipod revenue was $834.9 million, which was an increase of 24.0%. They released both U.S. and International revenue numbers, both of which were impressive.
The U.S. Omnipod revenue was $526.9 million, an increase of 25.3%. The international Omnipod Revenue was $308.0 million, an increase of 21.7%.
The Drug Delivery revenue was $69.5 million, an increase of 7.4%.
I won't bore you with any more numbers, but you can see the revenue and increases are high and well on their way to soaring even more.
Key Takeaways
The Omnipod 5 is revolutionary in the diabetic technology world and provides a new and effective way for people with Type-1 diabetes to better manage their insulin and live their lives more normally.
Insulet is a very promising company, already outweighing its competitors in many areas. Our advice, invest now.
Be the first to find out what the Nose knows.
Sign up for the TraderNose Newsletter and receive up-to-date analysis on Insulet and other companies like it.
Read full disclaimer here.