Register to get the latest investor tips
Register Now
Some people may hear the words "Innovative Industrial Properties" (NYSE: IIPR) and they already know the price and therefore, do not want to get involved. The real estate investment trust or the REIT has a price-to-sales valuation of 23 and a price-to-earnings valuation of 60.
That seems quite a bit more expensive than many other REITs. But trust us, it is for a good reason. In fact, most investors completely overlook this fact and keep buying the stocks anyway. This can be explained pretty easily but let's go over some facts first.
Just this past year, the stock was up 242%, which is far and well above similar stocks. S7P500s had just a 69% return over the exact same time period as when Innovative Industrial Properties went up that 242%.
But why is this particular REIT far outpacing all its peers? The reasons behind it may be pretty surprising to you.
They are actually the market's leading cannabis producers
Well, how much do they own you might ask? And how does that affect the prices of the stock directly?
They currently own 67 dispensaries that are spread across 17 states. The company currently leases 100% of its dispensaries, which most companies stay away from due to the plague of not being able to accurately collect rent on time.
This has never been a problem for Innovative Industrial Properties though. They have collected 100% of its rent. This is because they rent most of their dispensaries to well-known marijuana growers that can be trusted to make their profits.
You may recognize some of their leading growers such as Cresco Labs, Trulieve, and Green Thumb Industries.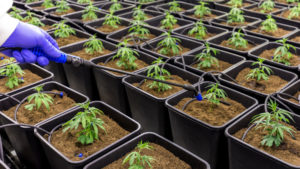 Is the marijuana market growing in The United States?
The short answer is yes. Despite what you hear on the news or all the opposition you hear from certain groups of people, the marijuana market has been growing steadily in The United States during the last decade and does not see any stopping in the near future.
Thirty-six states and Washington D.C. have legalized cannabis for medicinal purposes. Fifteen states have also started to move towards recreational marijuana use. This is a big game-changer for all investors in this industry.
Because of this huge jump in legalization, the REIT has increased its net income to $64.4 million which is more than tenfold. While the average REIT has earned around 12% per year, you can see that Innovative Industrial Properties is growing well above the national average.
They do not grow cannabis, they are just the landlord
They may be the leading cannabis producer, but not from actually growing any. Many people think they collect the rent from dispensaries as well as operating their own dispensaries, but this is not true.
However, this is absolutely for the best. Since they already own all the dispensaries and operating facilities, they are not currently spending any money on materials or paying labor fees. They own everything they need; they are renting it out to high-paying companies, and they are collecting all the money for themselves.
This is a win-win for them and for all their investors and is the reason why Innovative Industrial Properties' net margin is an astounding 55%.
Do I need to worry about dispensaries picking another landlord?
Definitely not. Innovative Industrial Properties is the largest source for rental dispensaries for both amateurs and companies already well into infiltrating the cannabis market.
Despite the majority of the states legalizing cannabis for medical purposes, there is only current legalization under each state on its own. Simply put, marijuana is still completely illegal under federal law.
Cannabis dispensaries are currently not allowed to apply for loans from the local bank because of federal law. What's, even more, is the current presidential administration (Biden) is only pushing for the decriminalization of cannabis, not for the legalization. So, marijuana will stay illegal under federal law for the foreseeable future.
So Innovative Industrial Properties monopoly is not going anywhere anytime soon.
Register to get the latest investor tips
Register Now
But should you really invest in a stock that is technically in an illegal market?
Yes, it is illegal at the federal level, no it does not actually violate any laws. As mentioned above, it does not actually produce or sell any cannabis itself, so investing in any REIT is different from investing in a company or stock that actually grows and dispenses cannabis.
Think of Innovative Industrial Properties as the bank. They loan out property for people who want to get into the cannabis industry. Without these producers being able to get any loans or financial services from traditional banks, Innovation Industrial Properties is really their only choice for creating a business.
It is actually a genius idea on the company's part because cannabis growers need capital to invest in their businesses. When marijuana becomes legal at the federal level, you may have to worry about marijuana company investments. It is definitely not happening anytime soon and should not be at the forefront of your mind for at least the next decade.
Where do they get the property?
It is not just random property and is not property they individually select the location of. Operators of medical cannabis properties want companies to buy their property and deal with the tenants, and this is what Innovative Industrial Properties does.
They have an average lease term of 16.7 years, which is a great return investment. They are not switching tenants often which means they are getting long-term cash coming from renters.
The prices and long-term commitments of the renters also cover any interest that Innovative Industrial Properties may be accruing from the bank.
Between Jan.1, 2020, and Feb. 24, 2020, the company bought 22 medical cannabis properties. They also funded additional construction at existing properties.

How much is the cannabis market growing?
A dispensary investment is about $30 million but is expected to be about $41 billion by 2025. This means perfectly steady yields and a continuing 100% rent collection rate.
The current debt-to-assets ratio is less than 10% and the annual dividend yield is 2.3% for Innovative Industrial Properties.
Let's take a look at the numbers
In total, the cannabis REIT has shown a total return of 1,200%. The company also has not currently run into any problems finding producers to make medical cannabis. It just went public in 2016, so it has made a massive return and grown exponentially in just a few years.
While 2020, unfortunately, saw the failure of many companies and stocks, Innovative Industrial Properties was not one of them. Not even in the longshot.
In the fourth quarter of 2020, Innovative Industrial Properties' revenue and earnings both more than doubled year over year. That is a more than 141% gain and has shares now valued at 13%.
Despite these gains, they did not meet the expected $38.5 million but instead came in at $37.1 million, which was still up 110% year over year.
Since the company's expenses doubled year over year, the growth rate did end up being more than the revenue growth.
With improvements at about 13 properties, the new facilities and buildings could boost their growth going forward.
Register to get the latest investor tips
Register Now
Are there any catches?
There is one and it is definitely worth noting. Innovative Industrial Properties was not listed on the 10 best stocks to buy this year for marijuana investors. Not a huge deal, but it is worth doing some research.
Innovative Industrial Properties are all in all a good investment option. They have an ongoing business and ongoing revenue steadily coming in.
Be the first to find out what the Nose knows.
Sign up for the TraderNose Newsletter and read our detailed reports on small-cap companies like Innovative Industrial Properties.
Read full disclaimer here.