Register to get the latest investor tips
Register Now
CyberOptics, once only an idea for the possible future, now a reality. This company is in a space that is on the move, and it is poised to show impressive revenue growth and Bullish momentum.
Innovations are a daily event in this space, and companies who are on the forefront of each new idea will get a larger share of the market.
CyberOptics (NASDAQ: CYBE) is not a household name, but it probably will be soon! The company has been around for a while, but tech stocks were not on everyone's mind nearly as often as they are now. Tech investments are a necessary part of your overall portfolio these days, and this one is a good choice for many reasons.
Reasons to Consider CyberOptics for 2021
This corporation is already a leading developer of high-precision sensing technology innovations. The sensors that are made by this company are used for 3D scanning, surface mount technology, and even in the semiconductor market.
Their tech affects yields and productivity and the company is already taking up a huge part of this growing space.
Global Leader
CyberOptics is a leader in their space because they are already working on key vertical segments of the market that have needs that need to be met. 3D sensors are in demand in every country and CyberOptics already has the connections to meet this demand.
Surface Mount Technology (SMT) is a growing space that this company is stepping right into as we speak. There are many other 3D sensing needs on the horizon, from tech to do with self-driving cars, security scanners, and even automation processes.
CyberOptics has the network to meet these needs and do so with nimble and thorough confidence.
Register to get the latest investor tips
Register Now
Impressive Growth
CYBE has shown impressive revenue growth over the years that has exceeded industry averages by 25%. They have shown a big leap in revenue of 51% in previous years alone. This would be impressive in any space, but in a growing technology sector, this is huge.
Perhaps the biggest boon to this growth is that they have no debt to speak of at all, an unheard-of metric to add to the mix when you consider investing in a company. This means that they can keep up a ratio of 2.85 to cover their short-term cash needs.
Their growth from the last quarter of 2016 exceeded that of the S&P 500 and also that of the Semiconductor Equipment industry. This means that their net income increased by over 300% when compared to the same quarter during the prior year's charting.
Operating cash flow was up 137% at that time as well, and the industry average is long behind them with their cash flow growth rate of 18%.

Off and Running
This stock stepped up from single digits and just never looked back. The charts for their prices clearly show the momentum that has begun for the company's stock.
Despite being overbought when the stock reached 30 level, ADX, MACD, and RSI still confirm development. The volume expanded during the rally but is contracting at the moment for a bullish outlook at present.
Insiders have also added to their positions, always a positive sign when looking at a company for long-term investment options.
Register to get the latest investor tips
Register Now
A Bit Expensive but Worth It
The only ratio that is a bit spendy is the price-to-book, which was at 4.15 vs the industry average of 3.80. This is offset by the P/E, which came in 31 with the industry average being 25.
While this stock will cost you more than a typical contracting stock might, its projected growth is so exponential that you will never notice the extra cost upfront. The company is only going to grow and gain in value, so this is potentially the only chance to get in at an affordable metric.
Due to continued announced innovations, CyberOptics is set to outstrip all of its competitors handily this year. They have won a number of prestigious awards like the 2016 Global Technology Award, and three other important honors were added to the list that same year.
The technical expertise of this company is second to none, and it shows. They announced back in 2016 that they are incorporating more semiconductor entities through the Nordson supply agreement, which should push quarter-ending sales from $13 million to $15 million.
Combine this with their acquisition of Laser Design, Inc. in 2014, and you have a formidable argument for value over the long haul. 2016 saw an increase of more than 95% in revenue, and nothing much has changed since then.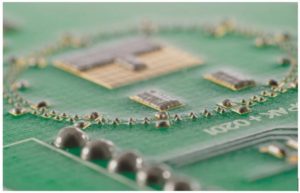 Scaling in Will Work Perfectly
2017 was another great year for this stock, and their portfolio has only increased in diversity since then as 3D sensor tech has expanded into many industries and has been called upon to meet many new needs. The tech space can be a bit daunting to jump into, but there are some solid indicators of companies that are heading for long-term success versus a quick rise followed by a crash.
CyberOptics is the kind of stock that you should scale into. As of 2016, the scaling cost was $26, and the 200-day moving average was $20. This seems to continue to be the case with this stock, and you can make a profit for yourself at these levels during much of the year.
This is a volatile stock, what with its mergers and acquisitions that continually shift the landscape of its worth, but the diversity of its scaling program helps secure it as a stock that is worth putting some long-term effort into.
Tech Companies Are the Way of the Future
Despite the common aversion to investing too much in tech, there has come a turning point in recent years where many of the best long-term investments are based on technology shares. The reason for this is obvious if you look at the lay of the land, especially post-pandemic.
There is not much in life that is not at least partially tech-based these days. Think about the power of computation that your cell phone has at its disposal and then think about a time when people thought that telephone companies, as we formerly knew them, were a good long-term stock to invest in.
Despite the tide of pressure that states that tech companies are inclined to rise and fall quickly, that is proving more and more not to be the case. Technology is a facet of everyday life in hundreds of small ways. You are probably reading this article on your laptop, or your phone, and you might be sitting next to a dishwasher that has more technology inside of it than you would have imagined possible when you were a kid.
Technology is not just a sector these days. It's a way of life. Invest wisely in this new part of the future, and you will be glad that you made the choice while you could still buy in at reasonable prices. You may have missed out on Apple when it was little more than an idea, but there are many other great options rising to the forefront of the investment landscape nearly every day that could take its place in your portfolio.
Be the first to find out what the Nose knows.
Sign up for the TraderNose Newsletter and receive our detailed reports on other frequently-discussed small-cap stocks like CyberOptics.
Read full disclaimer here.